by Scott A. Cupp, San Antonio Writer and Resident
On Sunday September 13, three intrepid souls wandered into downtown San Antonio to do a quick drive-by viewing of the new Grand Hyatt Hotel. This edifice opened only recently (March 2008) and is sort of vaguely attached to the Henry B. Gonzales Convention Center complex (the walkway around the exterior of the convention center continues on to the Lila B. Cockrell Theater and the Grand Hyatt).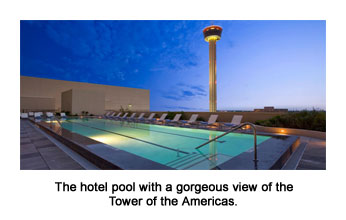 The hotel is new and thereby gorgeous. It seems spacious, though, to be fair, mid-Sunday afternoon is not exactly a bustling time at the hotel registration or lobby area. The lounge area near registration seemed comfy and wide; the bar was a nice size (not huge, but bigger than most). All in all, a very nice, appealing facility for a convention hotel. And its proximity to the Convention center is a big plus. With the two Marriott's across the street, the WorldCon fans will mostly be centrally located and have easy access to the Riverwalk, the Alamo, and the various freeway systems.
There are several restaurants at the hotel, so Kimm Antell, Brian Murphy, and I decided to check out Achiote, a reasonably priced spot down on the river level. Price range was moderate (most entrees in the $10 – 20 range). The restaurant was not very busy so our waitress Joyce was very attentive. She listed off the specials for the day which included a fish meal that Kimm inquired after. After receiving assurances that there was no cilantro in it, Kimm ordered that. Brian and I each order the Cuban Sandwich. The restaurant provided a spicy cornbread before the meals that was colorful, spicy and tasty. We learned from Joyce that this was her first day actually serving in the restaurant. She had spent the previous two weeks in training and we were among her first customers.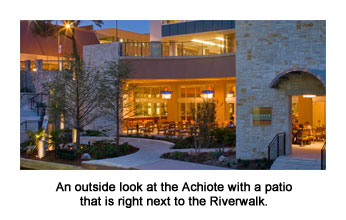 She chatted pleasantly with us while the food was being prepared and, upon finding out that I was from San Antonio, promptly told us that as a local I was entitled to an order of guacamole. We asked about cilantro again (Kimm is deathly allergic) and were assured that it did not have any and that we could watch it being prepared at our table and know for sure what was in it. Sure enough, a young man came to the table with a mortar and pestle and began mashing ingredients together to make the green goo (I am not a guac fan so Brian and Kimm chowed down on it heartily). The regular meals came out shortly and Kimm was lost to us for most of the rest of the meal, inhaling her fish. The Cuban sandwiches were very tasty and I had only minor quibbles. I thought it needed slightly more pickle and that the bread was just a tad too thick for a Cuban, but that did not stop me from devouring it wholeheartedly.
So, overall, I would rate Achiote as Very Good and reasonably priced for our trip and a place I will probably return to with Sandi on one of our infrequent trips downtown. I am not sure how they will cope with the chaotic madness that is a major convention, but I would like to see.
To find out more about the Grand Hyatt and Achiote, visit the Grand Hyatt website.