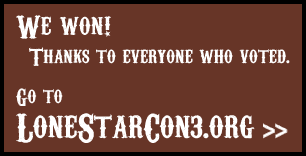 Welcome to the official bid website for Texas in 2013. We officially began our bid for the 71st WorldCon at Anticipation 2009. Thanks to everyone who attended the bid party and showed their support. It was great to see so many fans looking forward to coming down to Texas again and celebrating science-fiction and all its wonders.
We are bidding for San Antonio, Texas for Labor Day weekend August 29th through September 2nd, 2013. For the 1997 worldcon in San Antonio, we used the Henry B. Gonzales convention center along with the Marriott Rivercenter and the Marriott Riverwalk hotels. Those facilities are still potentially available to us with the addition of the new Hyatt Grand hotel now right next to the convention center. We will be in contact with all of these locations in the near future to determine just what space we might be able to use in 2013.
Come back to this website often as we update it with information or you can contact us at info@texas2013.org.