Reprinted with Permission from MissionsUnknown.com
Fan's Guide: San Antonio's Riverwalk
Two landmarks are classic San Antonio: The Alamo and the Riverwalk. While the Shrine of Texas Freedom is worth seeing when you come to San Antonio, the Riverwalk is the place to enjoy a wider variety of sights, sounds and tastes of South Texas. Now, don't put any stock in the opinions of people like Mark Cuban, owner of the Dallas Mavericks. After all, he has a full-time job keeping his team from imploding every year. No, SA's Riverwalk is a great spot for tourists and locals alike.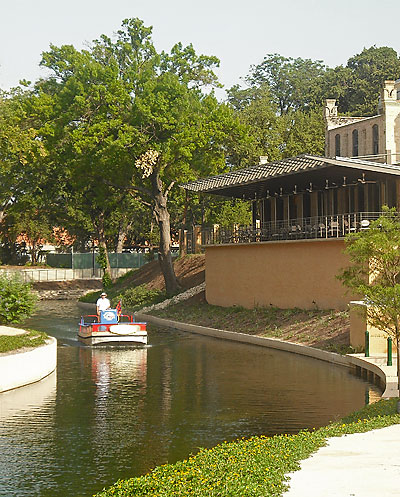 If you are a fan visiting our fair city, you will find the Riverwalk a convenient way to travel around downtown. And don't let the 'walk' part of the name fool you. While it is a great place to walk, the river is also trafficked by barges. These barges, run by Rio San Antonio Cruises, function as Riverwalk tours and river taxis that can take you from one place to another in a relaxed manner. If you're staying downtown for the weekend, consider getting a 3-day pass so you can cruise from place to place in total leisure.
Since many of San Antonio's downtown hotels are on the river, getting to the Riverwalk is as easy as getting in the elevator and going down to the river level. Hotels with easy river access include the Marriott Rivercenter, the Hilton Palacio del Rio, the Marriott Riverwalk, Homewood Suites, Hotel Valencia, Drury Inn, the Grand Hyatt and the Holiday Inn Riverwalk. If you are attending an event at the Henry B. Gonzalez Convention Center or the Lila Cockrell Theatre you will find that both also have easy access to the Riverwalk. Step outside and you find yourself in a lush environment below San Antonio's bustling downtown, where you will find indoor and outdoor eating spanning every price range.
There are some places you really should check out as you cruise the river. Stroll through La Villita, San Antonio's historic arts village populated by shops selling everything from original art to metal crafts to fine jewelry. Adjacent to La Villita is the Arneson River Theatre, an outdoor venue with seating across the river from the stage. Another shopping venue that has river level access is Rivercenter Mall, chock full of stores like GAP, Aéropostale, The Disney Store, Sanrio, Texas Treasures and too many more to list. Rivercenter Mall is also home to an IMAX Theatre that features continuous showings of the film Alamo…The Price of Freedom along with an assortment of first-run flicks. The Rivercenter Lagoon in front of the mall is home to daily Andean Fusion performances as well, providing a charming ambience as you stroll or shop.
Heading up the river bend, you pass an array of tempting eateries. Try Casa Rio, San Antonio's original Riverwalk restaurant and home of elegant riverboat dining. Other can't-miss options include Biga on the Banks, Boudro's, Dick's Last Resort, Durty Nelly's Irish Pub, Michelino's Italian Restaurant, Shilo's Delicatessen, Rio Rio Cantina and way more than you will sample in just one weekend so you may want to note the ones to try on your next visit. You can also drop in to Jim Cullum's Landing jazz club, home of the Public Radio International program Riverwalk: Live from the Landing, for some great classic American music.
Next you can now cruise north on the river on the new Museum Reach extension of the Riverwalk. This project is more than a simple extension of a tourist hotspot. The Museum Reach now connects the Riverwalk, both on foot and by river taxi, to the San Antonio Museum of Art and the Pearl Brewery. Along the way the City of San Antonio, Bexar County, the U.S. Army Corps of Engineers and the San Antonio River Foundation have made improvements in flood control and drainage while attempting to preserve habitat areas.
But that's not all they've done. San Antonio values the arts, and art installations are an integral part of the River Extension. Bridges sport light shows and sound installations to enhance your cruise. And then you get to an engineering marvel—the lock system at the Brooklyn Street bridge, which is quickly becoming another must-see attraction. This lock (yes, think Panama Canal on a smaller scale) raises and lowers the river boats nine feet and is very cool to experience. The video below explains how the system works.
Your next stop, the San Antonio Museum of Art hosts permanent collections of Mexican and American Folk Art, Greek and Roman Statuary, Chinese Pottery, Japanese Art, South Asian Sculptures and a great assortment of Contemporary Art. The modern collection includes several San Antonio artists including a piece by Boxcar Satan album cover artist James Cobb. Certainly, there are even a few SF themed pieces in the collection like the one shown at the left by American artist Rachel Hecker. John Hernandez's exhibit Zoe's Room is definitely worth seeing (it runs through August 2nd), especially for fans of low-brow art master Ed "Big Daddy" Roth and Dr. Seuss. The museum also has a nicely stocked cafe so it makes a great respite along your river trek and, conveniently, you can now take the River Taxi directly to SAMA.
Walking or riding farther north you pass under Interstate 35 where you will encounter Philadelphia artist Donald Lipski's larger-than-life school of fish. These suspended sculptures look great during the daytime, but come back at night and you'll see their otherworldly glow reflected in the river below. Past the highway you will come to Carlos Cortez's faux bois grotto with waterfall, an awesome piece of fantasy landscaping.
The last stop on your Riverwalk tour, the Pearl Brewery, was an actual brewery founded on the San Antonio River in 1883, but it has now been redeveloped into an urban village complete with shops, restaurants, galleries and studios. There is even a Farmers Market every Saturday where visitors can score fresh, local produce. Stop for a bite at Texas Farm to Table for a meal using the freshest ingredients available.
The Riverwalk is an incredible public space running through the heart of San Antonio. Treasured by locals while pleasing visitors. And fortunately the fun doesn't stop there. The Historic Mission Reach of the Riverwalk will be completed in 2012, extending river access all the way through San Antonio's famous Spanish Colonial missions. That just means your next stay may need to be for a week.